Recorded at her home in Delhi, July 2005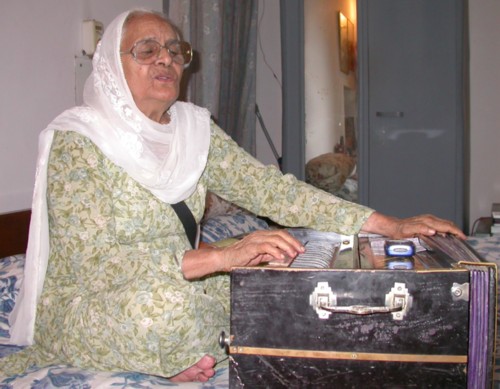 Bibi Jaswant Kaur in her home in Delhi in July 2005

Bibi Jaswant Kaur is the only known surviving student of Bhai Taba Ji, the legendary Rababi Kirtaniya, who with Bhai Chand, was one of the eminent Kirtaniyas at Sri Harmandir Sahib before 1947. Bhai Taba Ji will always be remebered for the tremendous service her rendered to the Sikh Panth by working with Gyani Gian Singh Ji Abbotabad and Gyani Dyal Singh Ji to document numerous ancient Gurmat Sangeet compositions.
As a young woman in Amritsar, Bibi Jaswant Kaur Ji studied Gurmat Sangeet with Bhai Taba Ji for sixteen years. She represents the Rababi Tradition, which has almost completely died after the partition of India and the migrations of most of the Rababis to Pakistan, where their art has withered and died.
Bibi Ji was kind enough o record a few compositions taught to her by Bhai Taba Ji. Bhai Kavinder Singh, a student of Gyani Dyal Singh Ji, provided tabla accompaniment.
Shabad Kirtan recordings:
Dekh phool phool phoolai
Raag: Basant
Dhan dhan oh ram ben baje
Raag: Maalee-gauraa
Ghar me thakur nadar na aaveh
Raag: Soohee
Har jan bolar sri ram nama
Raag: Shudh Malhaar; Taal: Partaal
Jal jasi dhola hath na lai kasumbde
Raag: Soohee
Maha maha mumarkhi
Raag: Basant (Marwa); Taal: Iktaal
Man re jap ram gopal
Raag: Darbari Kanarraa; Taal: Partaal
http://www.gurmatsangeetproject.com/Pages/JaswantKaur.asp